Estate Agents
Conveyancing for Estate Agents
Conveyancing Marketing Services can help you deliver the legal services your customers need, efficiently and at a competitive price. Our processes are straightforward and user-friendly, which means quicker turnaround times and happier clients, with all the word-of-mouth benefits that brings.
Working with CMS won't just enhance your reputation for good service and reliability. We'll share our knowledge and experience, helping you to improve your efficiency – and do more business.  And you'll earn valuable introducer fees along the way.   Our Account Managers have a reputation for building a genuine rapport with estate agents. They know your business, share your values and will do all they can to help your company thrive.
CMS Conveyancing is a highly efficient web-based  quotation and instruction service (Introducer Quotation System – IQS), available to estate agents free of charge.
It enables you to source and compare quotes from  a nationwide network of law firms, quickly and easily. All of these law firms are geared-up to  deliver high service standards and fast turnaround times. In short, properly managed conveyancing that  can speed up completion times, help reduce fall-throughs and improve pipeline conversion rates.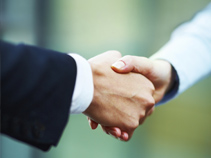 In addition, CMS has an enviable reputation for  reliability and good communication is part of the package too.
Once registered, you can use IQS Conveyancing  for sale, purchase and combined sale & purchase cases – and earn an introducer fee every time.
Benefits for Estate Agents
Enjoy faster completion times, reducing the risk of fall-throughs and increasing pipeline conversion rates. Offer your customers a fast and efficient conveyancing service at a competitive price. Earn valuable introducer fees of up to £200 + VAT per case completion. Create your own law firm 'panel' and only receive estimates from the companies selected.  Instruct law firms online, 24 hours a day seven days a week. Offer your customers a 'no move, no legal fee' guarantee with access to a dedicated customer services team should they have any questions. Track cases online via our Case Tracking and Reporting System. Call us direct with any queries and get practical help from the knowledgeable Account Management Support Team who really understand your business. Offer your customers high quality, low cost conveyancing – via Conveyancing Marketing Services.
Benefits for your clients
The means to select a law firm based on cost or location according to their priorities.  Complete price transparency with up-front information on all costs and charges,including third party charges such as stamp duty.  A 'no move, no legal fee' guarantee so if a move falls through, they won't be out of pocket for anything other than third party costs.  The means to track their case online.  A dedicated Customer Services Team on hand to answer any questions by telephone.  Frequent updates on the progress of their case direct from the appointed law firm.
Flexible commission of up to £200 + VAT per case completion
An average introducer fee would be around £100 + VAT (per matter i.e. a purchase or a sale).  However, you can adjust this down to zero or up to £200 + VAT or anywhere in between.  This gives you the flexibility to pass on cost savings to your clients – or to effectively double your earnings.
Example: by referring just five cases a month, you could earn £6,000 + VAT a year – or up to £12,000 + VAT if you choose to set the referral fee at £200 + VAT.  Plus a combined Sale & Purchase counts as two cases – meaning earning potential of up to £400 + VAT- or £24,000 + VAT per year.   Better still, we'll always let you know when a case completes, so you'll never have to chase us for your payment.
For further information conntact Sharon Buthlay (CMS Director) – sharon@cms-uk.co.uk
Google+