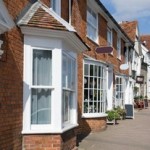 As the Government plans to build new-homes begins to take effect more and more new-build developments will be available for aspiring home owners.
There is nothing more tantalising than a brand new show home, especially designed by interior designers to maximise the space available. Fully carpeted, furnished and accessorised, even the table has been laid for a sophisticated dinner party. Who wouldn't imagine moving in and living the life style portrayed?
Beware! From the moment you step into the office the pressure begins, these are slick sales people and their job is to get you to buy. Here are some of the tricks of the trade to watch out for:-
Do your homework before you go to visit the site. Who is the developer? What is their reputation for building houses and finishing them on-time? How near is the development to transport, schools and the shops?
If you are a first-time buyer take your parents or a trusted friend or family member with you – you will be pressured to buy and reserve a plot on the day.
After you have viewed the show home, take a good look around the estate. Is it well planned, is there enough car parking (lack of parking is a major issue on new estates). Is there much communal space? Be aware that private communal space will eventually have to be maintained and paid for by the residents.
Ask the site office for room measurements – developers buy especially sized, smaller furniture to make rooms look larger – your furniture may not fit. Check out storage – another major issue with new-build. Is there somewhere to put a push-chair or even the Hoover? Many developers maximise space under the stairs to make rooms look bigger and they don't build in cupboards or wardrobes for the same reason.
How big is the garden? Does it come turfed – often with a new-build you are left with a patch of bare mud.
Ask what is included i.e. white goods, tiling, carpets etc. Do you get any say in the tiles, carpets, flooring etc? You will almost certainly be offered a deal on items to be included if you sign today – don't give in to pressure, that deal will still be available next week!
If you decide to buy, you will be asked to pay a reservation fee. Beware as often these are non-refundable if you change your mind. Check the small print and be aware that your deposit will go to the builder who will spend it on building the estate. I have recently spoken to two clients who have been seduced into paying thousands of pounds for 'non-refundable' reservations.
What is the timescale for completion? Are any delays expected? A shortage of bricks has recently caused major delays in the building industry. If you appoint a good solicitor they will insist upon a long-stop completion date for you to ensure that you aren't left hanging around for months and months waiting to move in.
You will be pressured to use the developer's chosen solicitor and mortgage provider. Don't give in. Shop around – you want an independent solicitor who will put your interests first and you will get a better deal on costs if you shop around. The same thing with mortgages – use a good broker to shop for the whole of the mortgage market for you. The wrong mortgage or solicitor can be a very costly mistake.
A bit further along the line your solicitor should insist that your exchange deposit be held by the developer's solicitor and not paid to the builder. The builder won't like this as they want to use your money to fund the development. That's fine – unless they go into liquidation in which case you would lose your money.
Google+