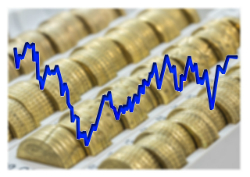 The shock spike in inflation from 0% to 0.1% has led to speculation that a rate rise could be upon us as soon as early 2016.
Interest rates have now remained stable since March 2009 and many in the property industry are predicting a rate rise in the first quarter of 2016.
Hargreaves Landsdown senior economist Ben Brettell says: "The rise in the core (inflation) figure suggests that underlying inflationary pressures could be building in the economy, and is possibly the clearest indication yet that the Bank of England might have to raise interest rates sooner rather than later"
With many borrowers still on favourable base rate or tracker mortgages the question is whether to jump to a fixed rate now or hold on for another six months.
Some banks have already begun to withdraw their lowest-interest mortgage deals in anticipation of a rate rise, which has led to an upturn in re-mortgage applications.
However, as the lower, more attractive mortgage deals disappear, so do new buyers – nervous of all the talk of rate rises many home movers are sitting on the fence waiting to see what happens.
The general consensus is that when mortgage rates do begin to rise it will be slowly and steadily, with any temporary disruption to the property industry levelling out quickly as demand for home ownership continues at an ever increasing pace.
Google+